Making soap at home is a fun and creative hobby. To create something unique, I decided to formulate a handmade soap that was gentle on the skin, and with a slightly exfoliating effect. The result was to formulate a delicate oatmeal soap recipe with the cold process.
If you are a newbie to soap making, you have to know that cold method requires the use of caustic soda to guarantee the production of soap. If you want to start creating your soaps in a conscious way, learning why some ingredients are chosen and how to use them in practice, I suggest you take a look at my last course "Soap making 101" on how to prepare soaps with the cold method.
Learn everything about soap making with my comprehensive course! Everything from ingredients, to lye discount, superfat, and much more! #ad
Disclosure: Some of the links in this post are affiliate links. By clicking through them and making a purchase, I may receive a small commission WITHOUT any additional cost to you.

Gabi
Oatmeal scrub soap recipe
I decided to make an oatmeal scrub soap recipe because I really liked my last DIY coffee scrub soap. You can read the recipe here if you are interested. Adding an exfoliant helps cell renewal by eliminating, with mechanical action, dead cells. This time, however, I chose a gentler exfoliant for my hands. Recently, I noticed that my hands were much more sensitive and dry. The choice of this exfoliant and the oils that I will list shortly is, therefore, not accidental but the result of targeted research to help my hands.
Oatmeal scrub soap recipe | Ingredients
Tools in cold process
Soap recipes made with the cold process must be made using suitable instruments to guarantee our safety. Click here to find the complete list of tools and the type of material that is the most appropriate to use.
The main tools used are:
Oatmeal scrub soap recipe | Procedure
To make the homemade oatmeal soap we will have to:
Wear gloves, protecting mask, and goggles!!!! Safety first!
Weigh oils and butter carefully and dissolve them in a bain-marie.
Pour distilled water (50% water and 50% ice) in a glass
Weigh the caustic soda in a second glass
Pour the caustic soda slowly into the water and stir with the glass bar. (NEVER THE OTHER WAY AROUND!!! ALWAYS POUR THE LYE INTO THE WATER!!!)
When the temperature of the oils and caustic soda solution is around 45°C (113°F)
Pour the caustic soda solution into the container with oils.
Mix the two parts with the immersion blender, until the trace is obtained.
Handmade Oatmeal soap | customize it
For this soap, I used titanium dioxide to color it white and give it a delicate character even to the eye. To do this, I dispersed half a teaspoon of titanium dioxide in a spoon of olive oil. I mixed well and poured it all into the soap. Helping myself with a silicone spatula, I mixed the color and after a few minutes the soap mass took on a perfect white color. At this point, I added the oats and continued to stir. All that remained was to pour it into the molds and let it cured, for more than 2 weeks.
Suggestions
TIPS: To prepare the caustic soda solution, I prefer to use 50% of water and 50% of the remaining water as ice. Being a very energetic reaction, this trick allows me to control the temperature and prevent it from rising rapidly to 80°C.
Ready to make your first soap with my MINI COURSE??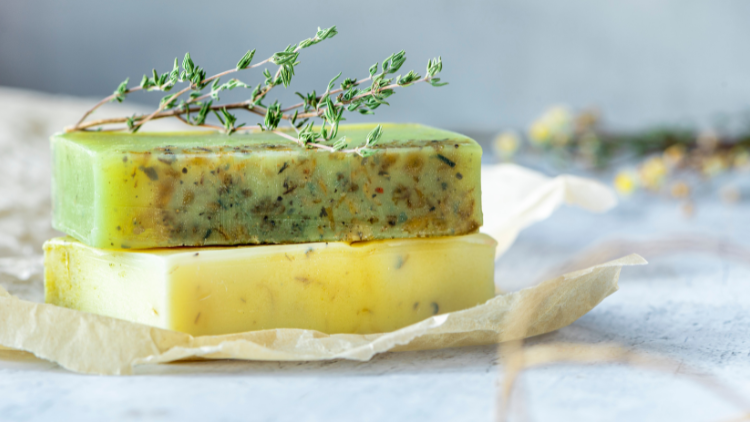 Conclusion
With the right ingredients and choosing a delicate exfoliant, I created a great gentle hand soap. Let's use this oatmeal soap recipe and start creating your soap at home! Share with me your creations, tag me @c6beauty, or leave me a comment.
Before leaving you, one last piece of news!
In my Etsy shop, you'll find a quick and easy guide to making 3 lip care products from scratch!
Theoretical aspects on ingredients and their roles played, recipes to follow, and templates to fill with your new recipes! Check it out!
If you like my content, help me with a small donation. With your support, I would like to buy new ingredients and create original healthy beauty products! Thank you 🙂
Gabi